The COVID Vaccine Experience Through the Lens of 7 Business Consultants
Business consultants who specialize in experience design are super curious by nature. You want them to be—so they can help you discover and implement innovative, agile, and results-producing solutions for you and your customers.

Recently, seven consultants from Propeller relayed their end-to-end vaccination experiences—covering six different vaccine centers across three states. They assessed their experiences through a patient lens—recording how the vaccination process made them feel, what they observed that worked and didn't work, and the experiential business themes that emerged. What quickly floated to the top were customer experience insights applicable to any company or industry looking to more effectively garner the trust, loyalty, and business of customers.
Below, we highlight the 5 customer experience themes, insights, and practical steps any company can take.
5 Vaccination Experience Takeaways—Applicable as Customer Experience Best Practices
#1. By Iterating Quickly, You Show Your Customers You Care
Talia noticed significant differences between her two visits to the convention center vaccination site. She expected to experience the same inconveniences—but instead was amazed at the changes the leadership had clearly made in favor of a better customer experience.
Talia's Observation: "I was surprised. It was clear those in charge had iterated quickly and made improvements. The crowd management process was smoother and faster. For example, vaccine wait lines were shorter, the parking garage had more people directing traffic, and there were more celebratory elements like banners and personal stickers to mark the occasion."
Customer Experience Insight:
Companies in any industry are wise to plan ahead for the need to iterate, leaving room for an agile response to changing customer needs and preferences. Iteration is also key to letting customers know that you're listening to their feedback and they are important to you. You can do this by initiating daily or weekly standups and retrospectives (what worked, what didn't, what's next?). Make sure you also have a common-access repository to backlog ideas and insights as they come up, to revisit later. And finally, keep in mind that your customers are getting smarter about who they give their business and loyalty to, so planning ahead to iterate and meet evolving customer needs will help you stand out in a highly competitive business environment.
Related: Nimble Planning in the Next Normal (Nimble Planning Toolkit)
#2. Customer Expectation-Setting Always Pays Off
Fadi knew ahead of time that getting his vaccine at the City College of San Francisco (CCSF, in partnership with UCSF) was likely to be a smooth process given that UCSF had been a leader in their COVID-19 response over the past year.
Fadi's Observation: "My expectations were high for a smooth vaccine experience, and those expectations were met. The online sign-up for the initial vaccine was quick and easy, I was happy to be vaccinated outdoors, and I had read that because of their streamlined process, they were doing about 5,000 vaccinations per day. As a result, I expected—and I had—a positive customer experience."
Maura experienced the opposite. Her scheduled vaccination was suddenly offered two weeks ahead of the expected date, at a pop-up vaccination stand along with her husband, and they needed to find childcare on a workday. This combined with them not knowing how their bodies would react to the vaccine created low to no expectations. Additionally, they received little communication about the process and what to expect. There was altogether too much mystery around the whole experience which caused anxiety and stress.
Customer Experience Insight:
Admittedly, setting up what amounts to crisis vaccination centers poses an incredibly difficult challenge for any organization. The level of difficulty in doing it right, from end-to-end, meant predetermining the experiential needs of a large range of personas —from young to old and everything in between. But this challenge is not unique to a crisis vaccination plan, many companies also face unexpected situations that demand a customer experience response. There are a few things every company can do—from manufacturing to retail, to financial services— to better prepare for and meet the range of customer expectations. For example, companies that focus on diving deep to really nail the full cycle information and experience needs of their target patient, customer, and employee personas, and then use a consistent omnichannel communication approach to answer these anticipated needs, questions, and expectations—will set themselves apart. Those who don't will miss the opportunity to establish the necessary integrity and credibility that wins and keeps customers. UCSF and CCSF approached things in a smart way: they anticipated each touchpoint along the way for a wide range of personas and proactively delivered pre-vax, vax site, and post-vax information and assurances that directly met people's needs and built trust.
Related: A Utility Company Makes Customer Experience a Top Priority
#3. There's No Substitute for Human Support
Briana and Anna experienced a full range of human support moments while at the vaccine site. They shared that they received personal help at check-in, guidance while in line, noticed two nurses were stationed at each vaccination station, and saw volunteer staff and an emergency medical services (EMS) team at the post-vaccine waiting area.
Briana's Observations: "All the human interaction and on-site support made me feel more comfortable about getting my vaccine," said Briana. "I knew there were folks there trained to assist if there was a medical emergency. It was clear the top priority was our care. I also didn't feel alone or isolated, like many medical experiences can feel because I saw lots of people from my community there with me. These things all mattered. Had I felt uncomfortable or not trusted that I'd be cared for if something went wrong—I probably would have left the line and walked out."
Anna's Observations:"I was shocked that the system was actually working —disbelief, "says Anna. "We had been talking about this for a year. I found it to be a best-practice display of thinking through every single persona blocker point. There were six-foot information signs everywhere, vaccine subject matter experts to answer my questions, and we were constantly moving through the process. I was visibly pregnant so received extra attention and stood in a different line. It was a smooth, fast operation."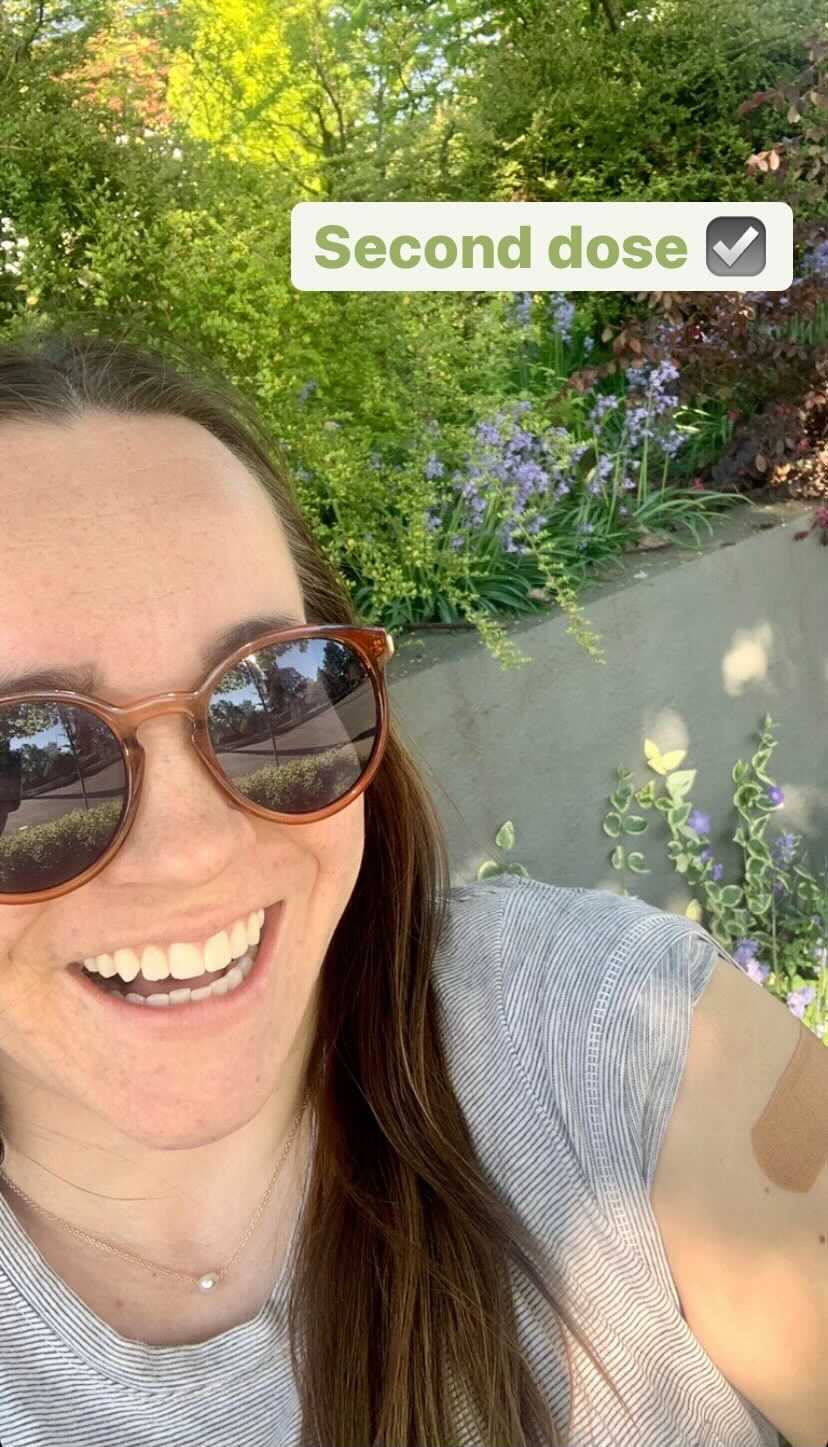 Customer Experience Insight:
No matter the industry, any business can strategically inject human support and interaction. In fact, there is no substitute for human support because there is no substitute for humans. Particularly in a time of stress or crisis, in-person human support and interaction will always produce a more thoughtful, effective experience. If all your customer interactions happen across a digital screen, the human touch is still essential. Use personalization options such as looking for touchpoints in your transaction process where you offer human connection to a customer be it a chat, text, or phone call. As well, the use of videos and personal/human testimonial quotes about your product or service can help customize the marketing content to very specific customer needs, rather than focusing only on what you offer.
Related: Advancing the Voice of The Employee at a Cloud Computing Giant
#4. Rigorous Customer Persona Building Drives the Desired End-to-End Experience
Corey traveled to a different site location for his second shot and had his 8-month-old baby with him. The downside was that in all the pre-communications around the vaccine sign-up, nothing addressed the needs of those bringing a baby or small child/children with them.
Corey's Observation: "Because I was getting my shot after all the healthcare workers, I assumed they would have a process in place for people that have to bring babies. When I got inside the fairgrounds, they did have a process in place for the elderly, those with children, and for anyone experiencing a vaccine reaction, but I found no information about this ahead of arriving."
Customer Experience Insight:
Much like doing the necessary persona work to understand your customers, it's also necessary that you plan to have a strong, clean, and transparent communication plan that will help guide all your identified personas through the process. This is where change management comes in. For example, use of the WIFM exercise (What's-In-It-For-Me?), will allow you to take stock of "why" someone is showing up and what their considerations may be. If you have a persona "Dad with baby" as in Corey's case, perhaps the WIFM would say, "quick and seamless experience with a place to sit, table to set a bottle down, or, in a mom's case – a place to nurse." Companies are wise to think through the WIFM needs of every persona who is actually or figuratively (online) "standing in line" to receive or buy their product or service.
Related: New Ways to Satisfy Changing Customer Preferences in Global Retail
#5. How the Energy and Integrity Behind the Message Can Influence the Masses
Ashley's vaccination experience was in a movie theater in Utah and managed through a single provider. For her, the in-person experience was seamless and the energy and care she received was exceptional. She had fewer glowing things to say about the online scheduling experience, which was not easy or intuitive.
Ashley's Observation: "The most positive messaging energy I received was the actual shot experience. Before beginning the process of injecting me, the nurse very calmly and patiently asked me if I had any questions or concerns about the vaccine. She talked to me about the vaccine options and explained clearly what side effects I might experience. Her willingness to take the time to answer my questions and soothe any of my concerns was not only reassuring but encouraging. During my time in the chair, I was her only focus and sole concern. It was empowering and made me feel like a person and not just a number."
Customer Experience Insight:
Micro-marketing or individualized care is the number one driver for positive customer behavior. When customers feel that their satisfaction is the central focus of a business, they will respond with brand loyalty. They will also likely be more than happy to self-promote your business within their people networks. Another critical concept in delivering messaging that lands with integrity and energy is how companies effectively (or not) socialize their mission and core brand pillars throughout their organization—from senior management to the janitor that cleans up after hours. When everyone has the right script, the messaging that sets you apart, and can recite it at a moment's notice, you are on your way to a market-leading position. This is particularly critical with global companies that have a presence across continents. But the premise is the same. It's more than just knowing the company tagline from the website homepage; it's internalizing it in a way that gives every employee (nurse in this case!) the confidence and energy to truly connect and engage with prospects and customers.
Related: Is Your Brand Promise Connected to Reality?

Summary
The net takeaway from our consultants' vaccine debrief is that even though a complex process was built relatively quickly to distribute vaccines, any end-to-end customer experience you design will always be filled with opportunities for improvement. You could be a global retailer, a healthcare system, a B2B SaaS company, or a regional government utility—the takeaway applies across all companies and industries:
The extent to which you powerfully and experientially meet the needs of your customers determines how you build trust, build your brand, and position yourself for sustainable growth.
Our participating Propeller consultants and where they received their vaccines Consultant
| | |
| --- | --- |
| Propeller consultant | Vaccine site location |
| Anna (pregnant) | Portland (OR) Convention Center |
| Ashley | Salt Lake City (UT) Movie Theater |
| | Alameda County (CA), Hayward Adult School |
| Corey (8-month-old baby with him) | Salem (OR) Fairgrounds |
| | City College in San Francisco (CA) |
| | Pop-Up Stand in Portland (OR) |
| | Portland (OR) Convention Center |
Experience Design Contributor
Brooke Graham is the perfect blend of Type A and Type B. Analytical, adaptable, and approachable, she knows how to drive a project forward while melding seamlessly into a new organization. Calm and cool under pressure, she thrives when she's leading teams in fast-paced environments. Brooke enjoys leading challenging projects involving change, especially ones where she can cultivate a powerful team. She lives to bring people together, whether the goal is to effect an organizational transformation or to plan a good party.
Brooke has more than 10 years of experience leading strategic, operational and organizational initiatives. Her background includes senior roles at Energy Trust of Oregon, where she developed change management strategies, and standards and procedures to enhance the customer and contractor experience. She holds a bachelor's degree in liberal studies from the University of Montana.
Healthcare Industry Contributor
Propeller alumnus Dan Nissen is a guiding light for any project that requires strategic thinking and a level head. He has mastered the art and science of forecasting in all areas of his life — even his family has a strategic plan. Dan's penchant for data analysis and leadership, coupled with his upbeat personality, make him a triple-threat to any roadblock that stands in the way of strategic direction.
An avid mountaineer, Dan has found that diligent planning and endurance in execution are as crucial to a project's success as they are to a successful climb. He has applied that philosophy throughout his decade of experience in the healthcare industry, with roles in clinical operations, market analytics, project delivery, and strategy development and implementation at Oregon Health and Science University, Rush University Medical Center, Northwestern Memorial Hospital, and UW Health. Dan holds a bachelor's degree in economics and political science from the University of Wisconsin-Madison and a master's degree in health systems management from Rush University.