Careers
As a company, we're always on the lookout for great thinkers, writers, and speakers who also happen to be amazing management consultants. Amazing requires a love of what you do that rises above excellence. It requires insatiable curiosity and an ability to see beyond "what's now" to uncover the trends and patterns that point to "what's next."
The Ethos of Propeller
Our commitment to the other (client, colleagues, company, community) won't fade with years or success. We won't take it for granted as a company or individuals. In a nutshell, it means that people matter more than dollar signs. Doing right by other people is the ethical thing to do and it's good business. We build our reputation for trustworthiness one interaction at a time; when we put people first, we're earning our reputation. We don't take on work or clients that aren't a fit just to add to the bottom line, and we refuse to sacrifice ethics or professionalism to get ahead.
The Ethos of Propeller
It may sound simple, but doing good work is at the heart of our business. It means judging your work not by what your boss or client expects, but by your own internal high-water mark. It is doing more than what's asked and showing the client what they need before they know they need it. It means taking on the tougher, more time-consuming challenge of helping the client along their journey rather than saving the day with the fast answer.
The Ethos of Propeller
Amazing requires a love of what you do that rises above excellence. We take action to improve what's around us. We are always on the lookout for those great engineers, builders, creators, and organizers who also happen to be amazing business consultants.
The Ethos of Propeller
If a client could make a problem go away without a consultant, they would. They want results that are tangible and work that is invisible. Clients want the path of least consultant. Being invisible means shifting our outlook from our own work to the larger goal of helping the client succeed. We all want to be recognized, but we want to be recognized for the right things. There is joy and satisfaction that comes from appreciation for a job well done, but it pales in comparison to the pride we feel when we've earned a client's trust, made their life easier, and ultimately hand them the reins.
The Ethos of Propeller
Greatness is a moving target; our aim for it is not. We've developed the habit of dedicating ourselves to the hard work of achieving something deemed worthwhile despite temporary failure, challenges, boredom, or lapses in progress. The same grit that helps us solve complex business problems has helped us to rappel from bridges and cliffs or graduate at the tops of our classes. We purposefully flex that muscle regularly and we look forward to the complex challenges that lie ahead.
The Ethos of Propeller
We are so much more than what we do from 8 to 5. We're moms, dads, husbands, wives, volunteers, students, activists, and more. We are people who have experienced work, life, and love and we're many-dimensional human beings. Propeller doesn't expect us to check those things when we walk through the door.
The Ethos of Propeller
Clients hire us to help them get things moving and keep them moving long after we're gone. We bring the energy it takes to get an engagement started, take action, and make smart and informed decisions, enabling formerly-stalled engagements to move forward.
The Ethos of Propeller
We will never sacrifice forward momentum. By taking small, informed risks, we are constantly growing as individuals and as a company. Our commitment to adaptability means we can never rely on the old way of doing things, even if the old way was one assignment ago. We all keep abreast of the latest business models, processes, frameworks, analytics, and software and fold them into our work as quickly as possible whenever and wherever possible.
The Ethos of Propeller
Our future success is defined by our current curiosity. We foster and develop intellectual curiosity in a variety of ways, including trainings with guest professors and professionals. We are always reminding ourselves and encouraging one another to ask how and why. Being innately curious allows us to think ahead and ponder possible outcomes so that we can all be better at our jobs, constantly adapting and improving, and always being mindful that the thoughts we foster guide the course of our future.
The Ethos of Propeller
Each of us is a unique blend of brains and business brawn. As individuals, we come from a wide range of backgrounds with various sets of experiences. Our differences make us a more valuable team, allowing us to be more creative problem solvers, work well with all kinds of people, and eliminate groupthink. Because we are real people and not consulting robots, we treat our clients like people, too.
Employee-Owned
Supportive & Well-Respected Colleagues
Frequent & Transparent Communication
Competitive Salary & Incentive Compensation
Health, Dental, Life, and Disability Insurance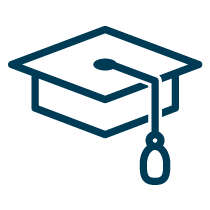 Internal & External Training Opportunities
Gym/Health Club Reimbursement
Flexible Paid Time Off
401(K) Retirement Plan
Group-Sponsored Social Events
Telecommunication and Mileage Reimbursement
Parental Benefits
All Local, No Travel Required
Community Involvement
Opportunities
Propeller is an Equal Opportunity Employer (EOE). We are committed to attracting, developing, and advancing the most talented individuals regardless of their race, sexual orientation, religion, age, gender, disability status or any other dimension of diversity.